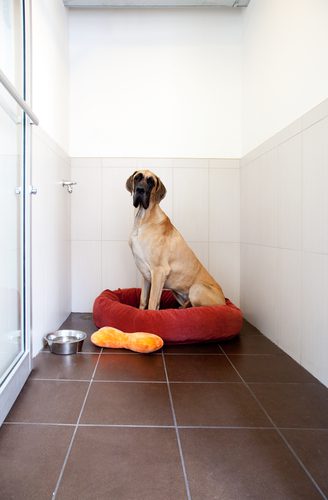 Planning a vacation, or perhaps a business trip, and worried about boarding your dog? Maybe you have a mental picture of your dog sitting alone in a cage, never seeing the light of day or a human being unless it's feeding time. So why not treat him by leaving him in a facility that is more like a pet hotel than a kennel! Think of it as a spa vacation for your dog.
Depending on how and where you travel, it may not always be easy to find a hotel that you like that also accepts pets. Rest assured, you can find a place to board your dog that will give your dog all of the amenities that you feel are important. In fact, some offer services that you might expect to find at an exclusive hotel. Not only will your dog be able to board there while you are travelling, but he or she can also have his nails done, get a bath, and maybe even a blueberry facial (yes, some facilities do offer these!)
To enhance your dog's social nature, many dog boarding facilities offer group play so your dog can run and romp with other dogs. Some facilities offer special equipment, fountains, and pools in their play yards. Group play at these boarding facilities is like a trip to the amusement park.
Another benefit of boarding at facilities that have trainers, you can schedule time with a personal trainer for your dog. He can have one-on-one training sessions to work on particular issues or work on new behaviors to challenge his brain.
If you worry about not being able to see for yourself how your dog is faring while you're away, rest easy. Many facilities now have cameras setup so you can keep an eye on your dog while you're not around. You can watch him play, eat and sleep! (Just like you do at home.) You can relax knowing that you can check up on your precious pooch any time of the day or night.
Just as finding a good restaurant makes your trip more enjoyable, boarding facilities understand that meals are also an important part of your dog's daily routine. The professional staff will feed your dog high quality, nutritious meals. You can, of course, choose to bring your own food and have your dog fed according to your specifications.
You may not be able to avoid boarding your dog while you travel, but you can make sure that your dog is safe, sound, and having a great time while you are away. And, maybe he'll send you a postcard.