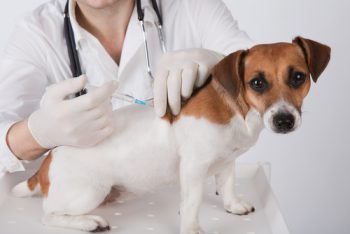 If you are considering dog boarding, there are a few things you will need to do in preparation for your dog's stay.
Vaccinations are one of the most important things to consider before taking your dog to a kennel.
Having your dog vaccinated properly will ensure that he/she stays safe and healthy during their dog boarding visit
. Below is a list of vaccinations you will want your dog to be up to date on. It is best to have these done 14 days in advance or at the latest 48 hours before boarding your dog.
Which Vaccinations Should I Consider Before Dog Boarding
Parvo

– Parvovirus is highly contagious, and is easily spread through contact with infected feces. This virus can survive more than five months in clothing, food pans, and floors, that are not cleaned correctly. Symptoms of parvovirus include vomiting, diarrhea, dark or bloody feces, dehydration, and the possibility of low white blood cell counts. Some older dogs may show very few symptoms when infected with the disease. Available vaccines for parvovirus protect against all strains. If your dog or puppy has contracted this virus previously they may be immune for reinfection for two years or more. It is best to check with a professional if you feel your dog may be immune.

Rabies

– Most of us have heard of the effect of rabies, or stories of rabid animals. While rabies has taken a downturn in cases since vaccinations were introduced, vaccinating against rabies yearly is still important. If a dog is bitten by another dog with the disease, there may be many different stages of infection. The virus moves slowly towards the brain, and usually takes three to eight weeks to show signs. Some of these signs include anxiety, fever, shyness, irritability, hyper- responsiveness, biting and attacking. They usually occur in the first two stages, as the dog gets to the next stage, symptoms may include, labored breathing, drop jaw, paralysis, choking, and weakness. Keeping your pets rabies shots up to date, and being especially cautious that shots are up to date before being kenneled, will protect your dog from this life taking disease.

Distemper

– This condition can spread quite quickly through a kennel, this fast moving condition runs rampant when unvaccinated dogs are present. All dogs are susceptible to this virus, which can affect various organs including the brain, eyes, skin, intestines, and the respiratory system. Distemper can lead to death if not treated quickly, and all dogs are susceptible, although young puppies and older dogs have a higher death rate. Vaccinating your dog against distemper before boarding them will prevent your dog from contracting symptoms of distemper.

Bordatella

– Also known as kennel cough, Bordatella is a highly contagious virus that causes your dog to have a dry hacking cough. This cough may present with nasal discharge, and in more serious cases, lethargy. Signs of exposure can show up anywhere from 2-14 days after your dog contracts the virus. Symptoms may last around 10 days, for non serious cases, however the dog will continue to share the infection for up to 14 weeks. This is one of the most common illnesses that are spread through kennels, and boarding facilities. Protection from the vaccine occurs around 3-4 days after the vaccine has been administered, your dog may still receive a mild infection after being vaccinated, however the vaccination should prevent serious symptoms from occurring.

Flea and Tick

– Even they are not immunizations, treating your dogs for ticks and fleas, before heading to boarding is important. These parasites can be a nuisance, and if left untreated, can cause serious problems. Having your dog treated with tick and flea prevention will keep your dog healthy and free from parasites.
These immunizations are not only important,
they are required by reputable dog boarding facilities
. Being up-to-date before you arrive to drop off your dog for their stay will make leaving your dog a smooth and stress-free process.