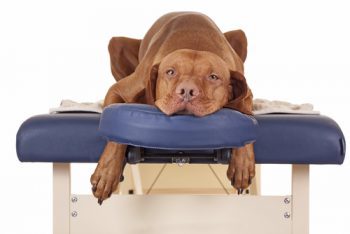 Your dog is a member of your family. Maybe you see him as your furry child, your kids think of him as a sibling — he's certainly anything but an ordinary pet. This is why it can be stressful when you have to board him for a period of time. The reality though is that your dog cannot come every where with you. There are some things that a dog just cannot do with his family. If you have to travel out of town or are perhaps you're having your house remodeled, you may need somewhere for your dog to go. When these situations arise, you want to ensure they have nothing but the best surroundings.
Just as we want to spoil our children, we love to spoil our dogs . We will bring special treats home for them at the end of a work day, surprise them with toys, and take them on walks at ridiculous hours, all to make them as happy and comfortable as possible.
Boarding often gets a bad rap for not being fun for dogs. The truth is: dog boarding can be truly luxurious. Boarding facilities have become quite advanced over the years and are more like luxury hotels for your dog than what you may have seen in the past.
Let's take a look at three of the top services that boarding facilities can provide to pamper your favorite pet.
The daily doggy massage
Many boarding locations are now offering some truly special amenities. One of these includes a daily massage for your furry friend. How great is it when you get to go to a spa for the day and are treated like royalty? It is often times the best part of any vacation, that one hour that you get at the spa to get a massage all to yourself. You can now allow your pet to experience that same type of luxury. The daily massages can focus on areas that can really give a dog problems. This includes the hip area, rubbing down the paws, and the leg muscles. After a long day of playing with all of his or her friends, a massage can help your dog recover, relax, and be ready for the next day.
Luxury flooring and beds
Dogs need things to be set up differently from humans. Things that we take for granted, such as the type of floor we walk on, can have a big impact on a dog's comfort. Dog boarding facilities are paying more attention to comfortable flooring for dogs. Certain types of flooring are a little easier on a dog's pads such as rubberized mat or artificial grass.
The same can be said for bedding. Having a premium bed, as you know, can have a huge impact on the type of rest that you get, how much energy you have the next day, and so on. Dogs are provided with elevated bedding so they aren't sleeping on a cold floor. These beds are also great for arthritic dogs since they provide more support.
Technology can help a dog relax and feel welcomed
Dogs aren't always associated with technology, but advances in media can help a dog feel more relaxed, welcomed, and comfortable when boarding. When looking to truly pamper your dog, look for a facility that offers rooms with television. This allows your to watch programming that will relax them and make them feel more at home.
Another option is music. Dog boarding suites are being built with ambient sound systems that will play relaxing music to help your dog feel as comfortable as possible.
There is a lot more to dog boarding than just making sure your pet is taken out for a walk and fed a few times every day. You want to leave your dog in a luxury environment, one where they feel welcomed, comfortable, and as spoiled as they do when they are home with you. When shopping around for the perfect dog boarding situation, check out whether or not they offer some of the luxury services listed above. This can help determine whether or not your favorite pup will truly be treated like royalty while you are out of town.