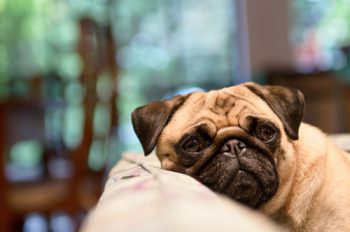 When severe weather strikes, your whole family needs to be prepared — including your pets. There are some essential items that you must have on hand in order to prepare for extreme weather and calm an anxious dog. These tips are especially important to keep everyone – including your pets – calm in a potentially dangerous situation.
"Shelter in Place"
In the south, we have all come to know this phrase very well, especially during tornado season. You most likely have a space where your family goes during such times. Set up a wire or plastic airline-approved crate for each dog as his own safe place in this area.
Attach a plastic zippered pouch to the front door of the crate where you can insert your dog's photo ID card and a copy of vaccination records. It's also a good idea to clip a leash to the door of the crate so you'll have one handy when you need it.
Depending on whether or not your "safe space" is used for other activities, you may not have room to keep a crate set up full time. If you do, great! If you don't have the extra space, be sure to set up in advance of severe weather – far enough ahead of time that you aren't rushing around when the sirens are going off.
If no one will be at home during the time for which the severe weather is predicted, consider crating your dog in this safe space. This will keep him protected and hopefully, injury-free, in the event the worst happens. (It will also give you peace of mind.)
Proper ID
Even if your dog is micro-chipped, when severe weather threatens, make sure he is wearing a collar with your contact info. This will be helpful in the event there is damage to your property during the storm and your dog escapes from his crate or from a rescue worker.
Proof of Ownership and Photos
Keep a "go bag" for your pets, just as you would for other members of your family. When gathering these items together, prepare for every eventuality. For instance, if you need to evacuate the area with your dog, you may need to prove that you are the owner. In addition to vet records, have photos of you and your dog together as further proof that he belongs to you.
It's also a good idea to keep a spare ID tag to use with your temporary contact information. This is important if your dog escapes from any evacuation accommodations or other temporary shelters.
First-Aid Kit
You should have a medical kit prepared to treat your dog if he is injured during severe weather. Make sure it includes:
A self-cling bandage such as a vet wrap
Absorbent gauze pads
Gauze roll
Cotton balls
Tweezers
Scissors
Antiseptic wipes
Disposable gloves
A muzzle
Saline solution
Anti-biotic ointment (such as Neosporin or Polysporin)
Antiseptic wipes
Instant cold pack
You can put all of these things together yourself, or you can purchase a pet first aid kit from most any pet supply store.
Also, consider that if you are hit by severe weather, you may be unable to pick up medication for any chronic conditions from which your dog suffers. Discuss this with your veterinarian the possibility of obtaining a two-week emergency supply of your dog's prescription. You may also want to discuss keeping antibiotics on hand as well.
Many dogs suffer from storm anxiety, so having a plan in place prior to a severe weather emergency will keep you calm as well as your anxious dog.