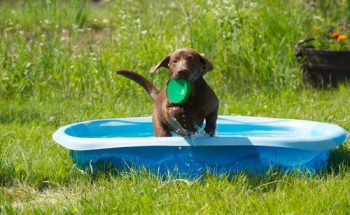 Dogs, like kids, love to have fun in the summer. Unfortunately for many dogs, summer is not an enjoyable time of year. Dogs and hot temperatures can lead not only to discomfort for your pet but also heat stroke. Luckily, there are plenty of creative ways you can keep your dog cool and have fun together.
Homemade Frozen Treats
Substitute your dog's regular treats with some of these healthy snacks, perfect for hot days, that you can easily make at home.
CHICKEN POPS
Place about one quarter of a cup of cooked, chopped chicken in each disposable cup along with half a cup of water. Freeze for at least eight hours, or until the ice pops are set, and then remove from the molds by running them under warm water.
YOGURT DIPPED STRAWBERRIES
Dip washed strawberries in natural yogurt (avoid flavored yogurt as it contains sugar). Place the strawberries on parchment paper and leave them in the freezer for about one hour or until the yogurt is nicely frozen. Both you and your dog can enjoy this delicious treat.
Ice Lick
An ice lick is a great way to keep your dog cool. You can make the lick more interesting by freezing a few chew toys and treats within the ice, or further add to the appeal by creating a block from a combination of water and reduced sodium chicken broth.
Water Fun
Water activities are perfect for dogs who live outdoors, for families without air conditioning, or just as a novel way to deal with dogs and hot temperatures.
KIDDIE POOL
Fill a kiddie pool with water for your dog to play and cool down. If you do not already own a kiddie pool, consider purchasing a specialized dog swimming pool designed to withstand claws and teeth. Dog swimming pools come in both plastic or metal, but the latter is particularly durable. Dog pools often have the added advantage of a ramp or sloping sides to help your pet climb in and out without assistance.
Some tips for water safety:
Never leave your dog unattended around water — even good swimmers can drown.
Keep the pool and toys clean to prevent the spread of bacteria.
SPRINKLER
Dogs who are less inclined to play in a pool yet not totally opposed to water may enjoy using a sprinkler; many dogs find it fun to chase and dart through the spouting water. You can also purchase sprinklers that spray a gentle mist to cool down dogs without them getting too wet.
TOYS
Dogs and hot temperatures combine to make the perfect excuse to go swimming. You can make the experience even more fun with some of the following toys:
The Bumper water toy by Chuckit! is specially designed for water play with your dog. You can use it for both tug of war and fetch — even the roughest play will not wear it out.
A Bumi is a floatable, ultra stretchy toy made from zogoflex material. Produced by West Paw Design, this toy is perfect for a range of creative activities.
For dogs that love Kong, there is Kong Aqua for water play. The toy features a rope for fetch and tug games.
However you choose to spend the summer, involve your furry friend with some of these activities and treats. Dogs and hot temperatures do not have to be a problematic combination — you can have plenty of fun while remaining cool and safe.